GIVE THE GIFT OF DIGNITY & INDEPENDENCE


Ezy-Ups Ltd Is Looking For Nationwide Retailers And Distributors To Help Solve The Growing Problem Millions Of Australians Are Experiencing Everyday.
Dear Business Owner,
Did you know there is a growing number of Australians that are struggling everyday with one of the most simple tasks that we all take for granted?
A few years back Australian inventor Bill Carbray wanted to help his Mum who was getting more and more frustrated with the task of getting dressed in the morning because of her restricted mobility.
After trying several dressing aids with his Mum and finding them more trouble that they were worth Bill eventually came up with the EzyUps Dressing Aid, testing each prototype with his Mum until he found the perfect solution. The EzyUps Dressing Aid patented design solves all the problems you experience with dressing sticks & clothes grabbers.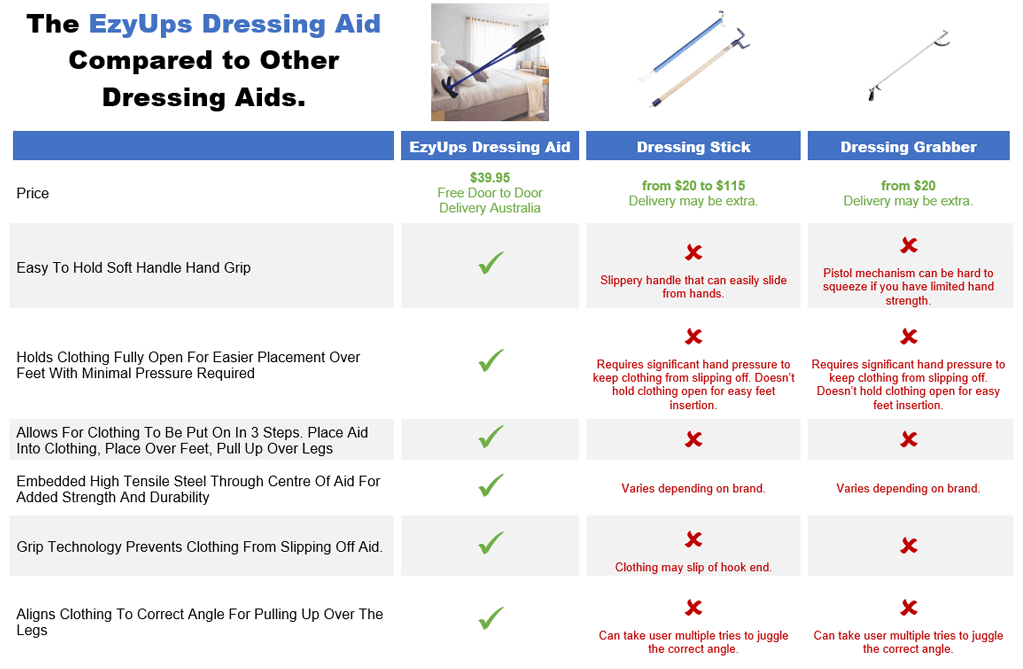 The EzyUps Dressing Aid Compared to Other Dressing Aids.
If you are interested in retailing, distribution or commission sales of the EzyUps Dressing Aid we would love to hear from you. Please feel welcome to request an information pack by emailing your company details including contact phone number right now to: experience@ezyups.com
Watch the video below to see how the EzyUps Dressing Aid works to solve the problems you experience with standard dressing aids.
If you are interested in retailing, distribution or commission sales of the EzyUps Dressing Aid we would love to hear from you. Please feel welcome to request an information pack by emailing your company details including contact phone number right now to: experience@ezyups.com