EzyUps Dressing Aid Blue
Rated

5

/

5

based on

14

reviews.
$39.95

More info.
Make 4 interest-free payments of $9.99 fortnightly and receive your order now.
In Stock
- Ready For Dispatch
Free Shipping
- Australia Wide
With the EzyUps Dressing Aid your loved one will be able to easily dress and put on their underwear (Disposable & Standard), Skirts, Tracksuits, Trousers and Slacks WITHOUT having the embarrassment of asking someone for help. Using the EzyUps dressing aid requires no special training whatsoever.
The EzyUps Dressing Aid gives people back their dignity & independence, allowing life to be lived to the full while also giving you control back of an activity we all take for granted.
Although initially designed for the older generation, the EzyUps Dressing Aid is also ideal for people of all ages that are experiencing limited flexibility because of back and spinal injuries, joint replacements, sporting injuries and any other causes of limited flexibility.
The EzyUps Dressing Aid is Easy to Use With Three Steps:
Sit on a comfortable chair with a flat surface beside you and place pants facing upwards. Fit the EzyUps heads inside the waistband of the pants, noting that the correct angle can be achieved by placing your thumbs on the two indicator buttons below each handle.
Now you can place the pants in front of your feet by holding the EzyUps handles. You'll find it easy to slip your feet, one at a time through the pants.
Slide the pants up your legs until you can reach the pants and then remove the EzyUps Dressing Stick.
How to use the EzyUps Dressing Aid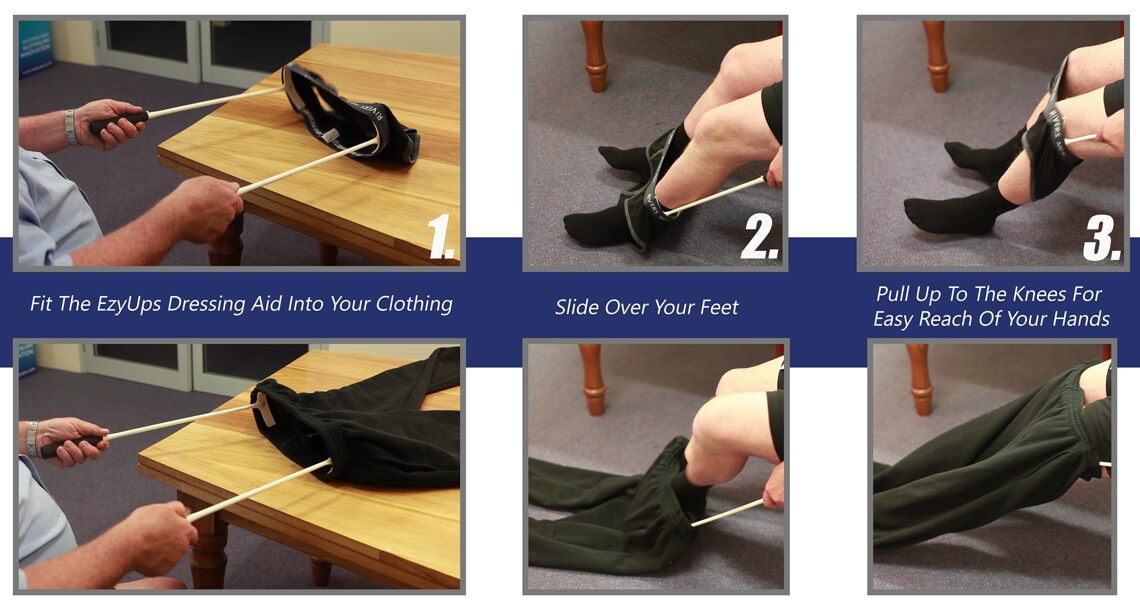 EzyUps Dressing Stick Compared: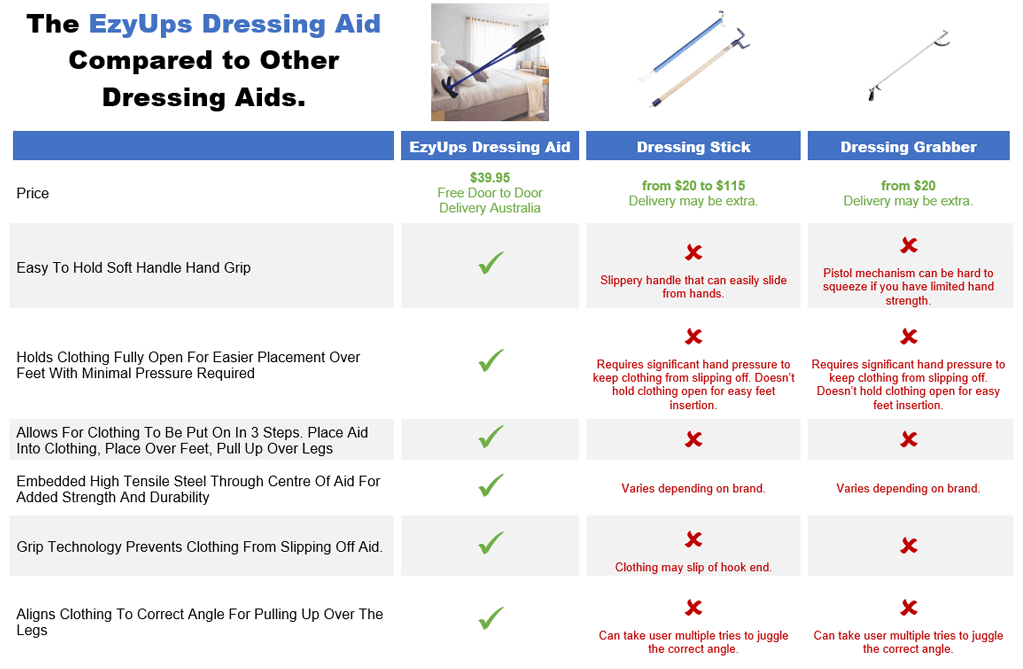 The EzyUps Dressing Aid is also helpful with pregnant women in their last trimester, people with multiple sclerosis, people with sporting injuries and people struggling with mobility after surgery.
Designed in Australia by Bill Carbray, the EzyUps Dressing Aid was first created to solve a problem for his mother who was in her 90's.
Due to her reduced mobility Bill's mum was being affected daily with the problem of getting dressed. Stress and embarrassment, and the will to live were all side effects of this problem that of being unable to dress in the morning.
With the EzyUps Dressing Stick anyone struggling with restricted mobility will now also be able to dress independently of others and maintain their dignity.
You can have your EzyUps Dressing Aid delivered to anywhere in Australia today for $39.95 (free shipping)
We also ship worldwide to most countries.
(EZYUPSDA)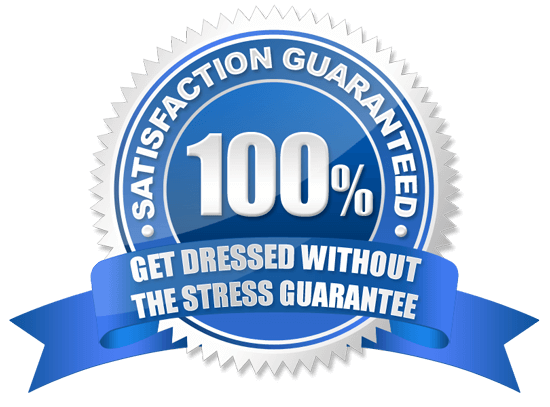 Get dressed without stress or your money back, that's our personal guarantee to you when purchasing an EzyUps Dressing Aid from our online store.
Your EzyUps Dressing Aid will help you or someone you love relieve the stress and pressure of dressing or we will give you a refund on your purchase.
Please note to qualify for a refund the EzyUps Dressing Aid must only be used in accordance with the instructions of use. EzyUps is a dressing aid and not to be used outside this purpose.
EZY-UPS LTD ("EZY-UPS") also guarantees this product fully against defects in materials and workmanship when used in accordance with the instructions of use for the lifetime of the original purchaser. Should any defects be found a replacement or refund can be requested.
Hip replacement

By:

Josette Davis

on 1 August 2021

Great product to use when you have limited range Of motion. Hip replacement needed and this helped Me maintain my independence with dressing




(5)
AWESOME DRESSING AID EVER

By:

Anne Larkin

on 16 April 2020

I just want to tell you what an AWESOME product you have. Once this order arrives I will have 3 sets, one in the bedroom, one in the bathroom & one in the caravan. These sticks have given me back some of my independence as I wouldn't be able to dress myself without them. Also when I was in Donvale Rehab hospital recently following major spinal surgery I had my EzyUps with me and the OT staff were most impressed and have placed an order for some for demonstration to other patients . They were most impressed. Keep up the good work.




(5)
Fantastic

By:

Karyn North

on 12 August 2019

Bought these for my mum who struggles with rheumatoid arthritis..she loves them..says they really help her back and fingers with pulling clothes up..thankyou..




(5)
Fantastic product

By:

Paul

on 23 December 2018

Purchased the Ezy Ups for my mother and she tells me it has made her life so much easier, she can now get dessed much faster and no longer needs help getting dressed




(5)
EzyUps Dressing Stick

By:

Fran

on 16 September 2018

I ordered these to have for my hip replacement surgery in November. Nothing similar in Canada. They came quickly and I am already using them. They make it very easy to put on trousers. Solid construction and easy to use. Exactly as advertised!! I highly recommend them.




(5)